ikago Heat Coaster Pro Standard
Free Shipping For All Orders

30-Day Money Back Guarantee
Experience a perfectly hot coffee to your taste with ikago, every time. Tune your personal ideal taste and temperature with a 1-degree increment from 105 to 175 degrees. Fast heat for a slow drink.
Perfectly Hot Delight
1°F Accuracy Control
Touch-Free Auto-Sensing
Quick & Safe Heating
One Degree Matters
Find your coffee's sweet spot with ikago's 1-degree precision heating. Because who wants a 'meh' cup of joe? Whether you're a coffee connoisseur or just have different preferences for your beverages, ikago has got you covered. Don't settle for mediocre - experience the ultimate taste with ikago.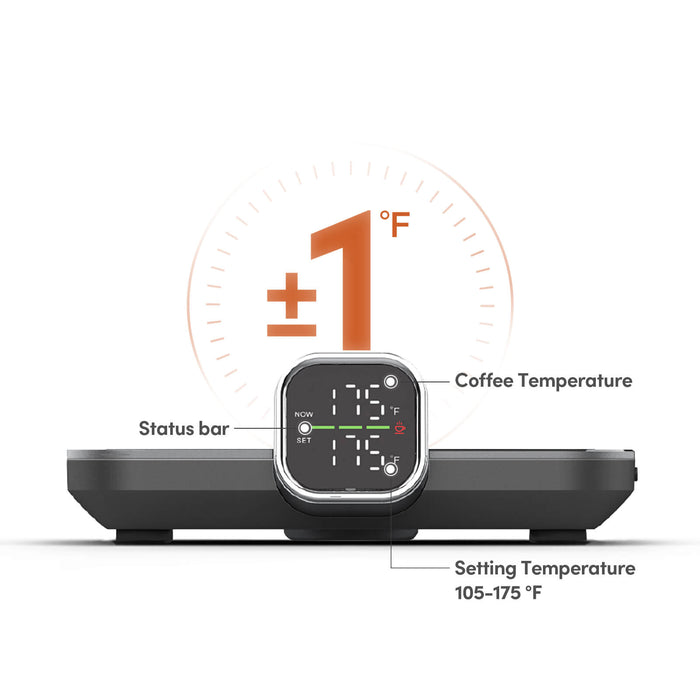 Enjoy Hot Coffee That Lasts All Day Long
Our patented heating plus innovative infrared sensing technology make a perfect team to keep your coffee as hot as you prefer, all day long.
Read the Temp, Read the Taste
Visible and comfortable. The digital display gives you an instant read on the heat, so you can enjoy your beverage with ease and peace of mind.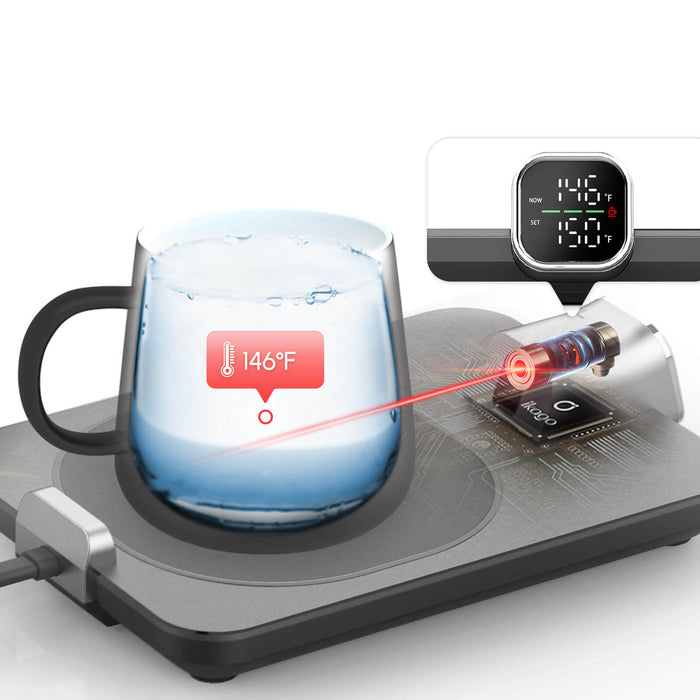 Any Mug*, Any Drink
Bring the perfect taste to all your favorite beverages, from coffee to tea. Our device adapts to almost any mug, ensuring the perfect temperature and flavor every time.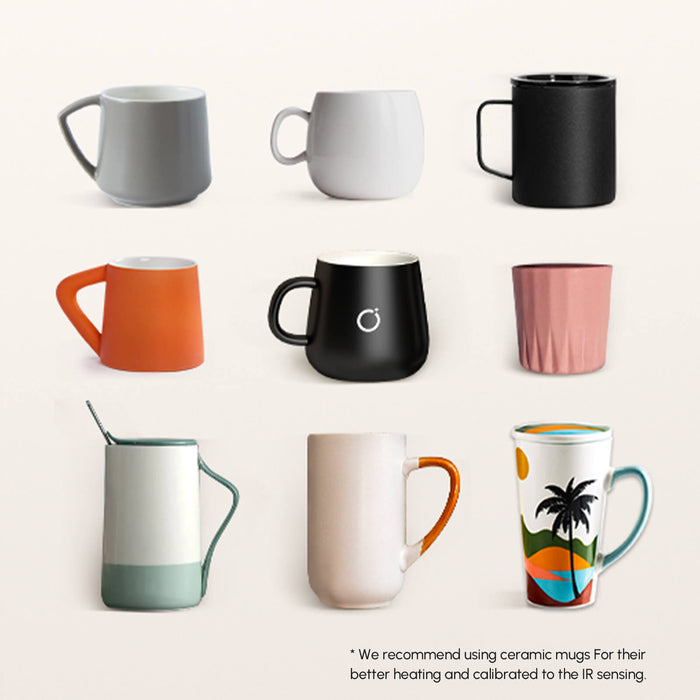 Worry-Free,Touch-Free
Safe and hassle-free. ikago's intelligent feature automatically shuts off when the cup is removed or reaches the desired temperature, saving energy and our planet.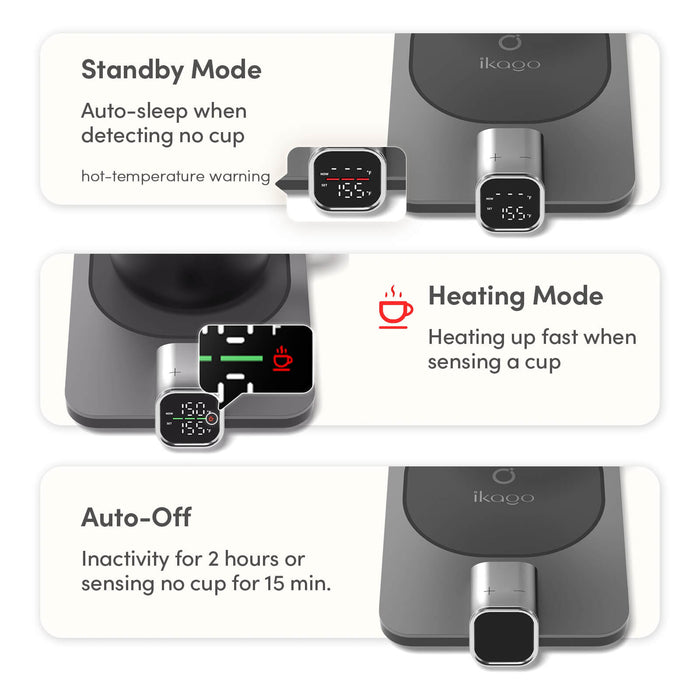 Embrace Ultimate Blend of Style and Smarts
Crafted to perfection with premium materials, ikago's silver and sleek matte black design is a showstopper. Patented heating technology keeps your coffee piping hot while saving energy and reducing waste.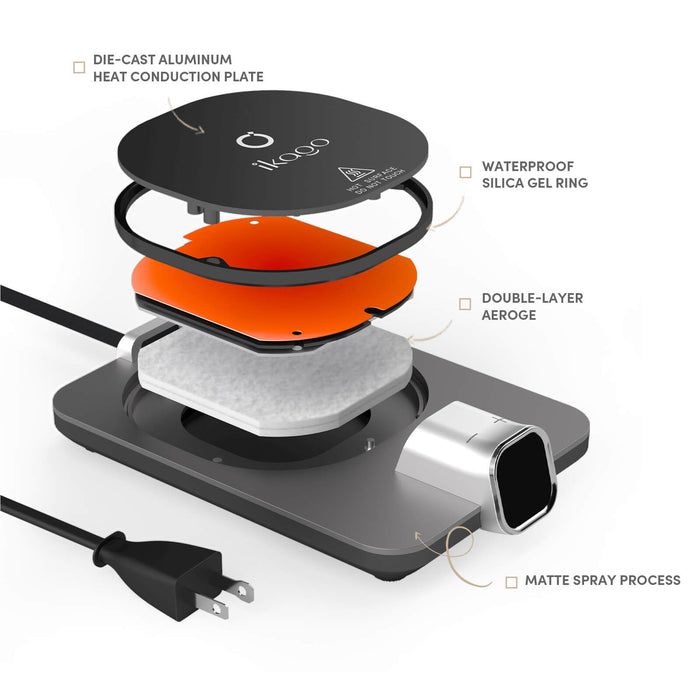 Why choose ikago?
ikago Heat Coaster Pro
Other coffee warmers
keep your coffee hot, but not overcook it

Yes

No

customizable temperature

Yes


105°F–175°F

No

read the beverage temperature

Yes

No

smart and eco-friendly heating

Yes

No

safe and automatic shut-off

Yes

No

fits various ceramic cups

Yes

No

memory of setting

Yes

No

well-made with premium materials

Yes

No

stylish gadget on your desktop

Yes

No
Specification
Package Contents

Heat Coaster Pro × 1
Owner's Guide × 1

Input voltage
120 V, 60 Hz
Rated Power
75W
Size
6.7 by 4.3 by 1.4 inches (16.9×11.0×3.6 cm)
Weight
0.57 pounds (260 g)
Customizable Temperature Range
105°F-175°F (40°C-80°C)
Great purchase
This is a must have for anyone who loves a cup of hot coffee to the last drop.
Coffee / Tea is always the perfect temperature
This is a wonderful warmer. Works with all kinds of mugs and has my coffee at the right temperature. I love it.
Best heating coaster I've tried
This heating coaster is high tech and so accurate. Really, it is accurate to the degree. Maintains constant temperature. Excellent build with a nice easy to read display. The beep when removing the coffee mug and placing it back on the coaster is a little annoying but, I'm noticing it less over time. I purchased a second one for my office desk.
Stupendous sipping
I work from home, my desk is in the basement. My coffee and I get cold super fast. This coaster keeps it hot AND heats up my drink fast! I've used other heated coasters and the stress they only extend how warm the cup is. This one actually brings my freezing cold cup up to hot in no time plus it shuts off if I forget about it.
Best investment ever made
I love having the options of how hot i can maintain my coffee or tea ….it's great that you can set the desired temp…. I'm definitely getting another one for home … the one i have Is for work.